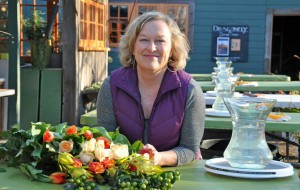 Pamela Bell is a professional Life Coach, Spirituality Coach and Creative Visualization Specialist. She incorporates movement, contemplation, art and sound into her practice to help break through the confines of the "thinking mind."  She is also a writer, meditation teacher, and floral designer & teacher.
She has spent over thirty years on her own spiritual journey while contending with the many demands of contemporary life. From Corporate America to Small Business Ownership to Workshop Facilitator, she has challenged the norm and made a personal commitment to a meaningful and creative life.
She writes a monthly inspirational column for a Sonoma County based newspaper and has been writing and coaching for over a 13 years. These columns are currently being assembled into her first book!
She lives in Healdsburg, CA (Northern California Wine Country) and enjoys the enormous abundance this region provides from organic food & wine, to authentic friends and community, to quality of life beyond measure.
Come to one of her classes/workshops and share in her compassion, humor and love of life!